Products
Quality and reliable IVD instruments for quick and easy diagnosis.
About Us
Exist to deliver better solutions for mankind
Be number one company in chosen segment by providing latest and best quality product & services to Indian market.
Continuously develop and enhance all kind of technical alliances and product features.
Walking through the future on the core values of the company.
Everyone in society is free from health concern, living better and healthier life.
Maintain highest level of ethical standards & integrity in all our dealings.
Providing mankind effective healthcare solution.
Welcome to our company, the fastest-growing In-Vitro Diagnostic product manufacturing company! Since our establishment in 2008, our mission has been to provide state-of-the-art IVD products at affordable prices. We take pride in our core competencies, which include our extensive professional and technical knowledge of the industry, our commitment to world-class quality products, and our unwavering dedication to reliable services.
As a part of the Indian Government's "Make In India" initiative, we take pride in being one of the few original manufacturers of IVD products. Our state-of-the-art manufacturing facility, located on the outskirts of Mumbai holds ISO13485 and ISO9001 certifications. Designed in compliance with GMP and WHO guidelines, our manufacturing premises is licensed by CDSCO and enable us to produce Class A, B, C, and D IVD products.
Our highly skilled and professional staff, specializing in manufacturing, quality assurance, and research and development, work tirelessly to ensure the highest standards of excellence in every product we create.
Under our renowned brand name, ALLCARE, we offer a diverse range of high-quality products such as Clinical Chemistry Reagents, Rapid Test kits, Microbiology products, POCT Analyzers and its parameters, Electrolyte Analyzers, and Semi Auto Chemistry Analyzers. Our extensive product portfolio caters to the evolving needs of the diagnostic industry.
With nearly two decades of professional experience in the diagnostic industry, we have earned the trust and loyalty of our customers, positioning us as their preferred choice among our competitors. Our success is a testament to our commitment to reliable service and the satisfaction of over a thousand customers who have placed their trust in us.
At our company, we understand the value of a dedicated and proficient team. That's why we have invested in highly trained professionals who form our exceptional sales and service teams. Their promptness, expertise, and unwavering commitment ensure that our customers receive unparalleled support and assistance.
To expand our reach, we have strategically established sales and service offices in Mumbai and Hyderabad, complemented by a strong network of distributors across India, Asia, and Africa. This extensive presence allows us to deliver our products and services efficiently to customers worldwide.
Thank you for considering our company. We are committed to providing you with exceptional IVD products, reliable services, and unwavering support. Join us on this journey as we continue to revolutionize the diagnostic industry together.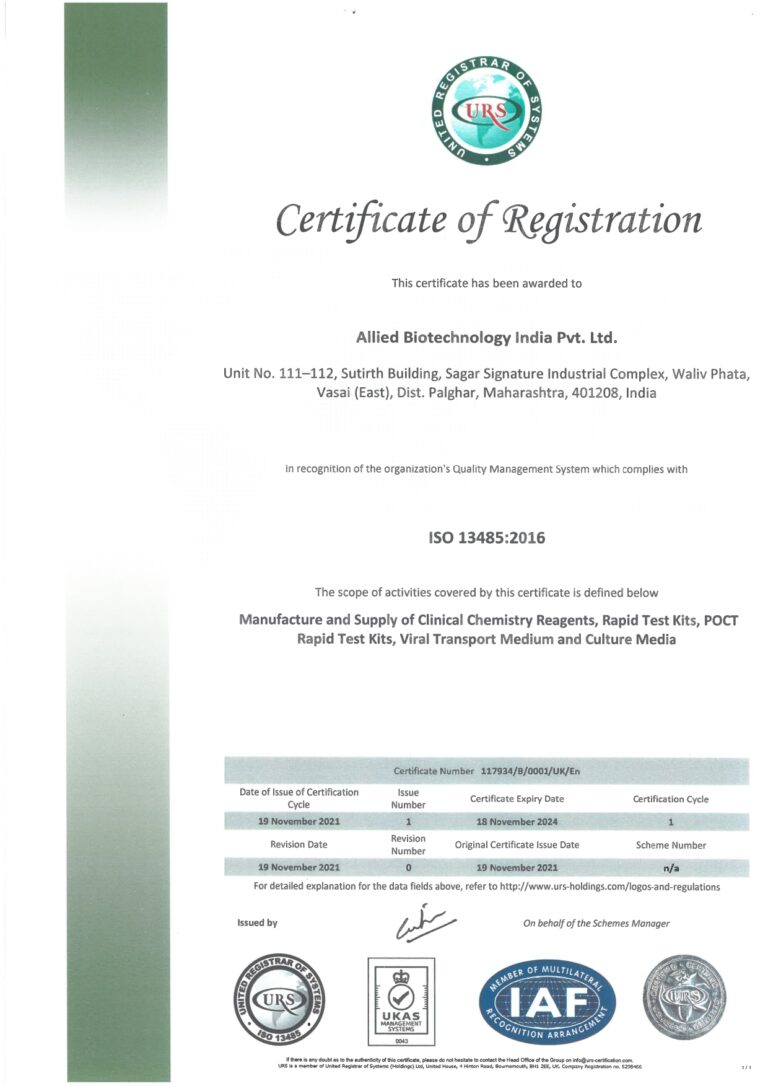 Contact
Trusted by more than thousand customers across the country with a proven track record of more than 10 years.
Mumbai
B-202, Tania Meet Melange Building
Navghar Road, Vasai (East),Mumbai Maharashtra -401210. India.
Phone No: +91-9699918275
Email: info@alliedbiotech.co.in
Hyderabad
18-458, 2nd Floor, Road No.5, Mallikarjuna Nagar, Malkajgiri, Hyderabad-500047 India.
Phone No: +91 40 65555527 / +91-9394606296
Email: info@alliedbiotech.co.in
Downloads
Magnam dolores commodi suscipit. Necessitatibus eius consequatur ex aliquid fuga eum quidem. Sit sint consectetur velit. Quisquam quos quisquam cupiditate. Et nemo qui impedit suscipit alias ea. Quia fugiat sit in iste officiis commodi quidem hic quas.